Advertisement

Change comes to DIA
One thing you can count on is good natured, but one-way, ribbing whenever Army Lt. Gen. Mike Flynn is in the same room with Director of National Intelligence Jim Clapper.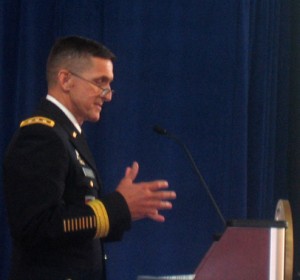 You might remember it was Flynn who wrote a controversial journal article criticizing intelligence in Afghanistan, and soon after was summoned back to Washington to work directly for Clapper.
The two were on the same stage today at the Defense Intelligence Agency headquarters in Washington, D.C., for a ceremony making Flynn DIA director. He succeeds Lt. Gen. Ronald Burgess, who concluded a 38-year Army career.
Anyone who wondered if Clapper would refer to his history with Flynn did not have to wait long:
"Many recall the famous article Mike Flynn wrote, called the Blueprint for Making Intelligence Relevant," Clapper told the audience at DIA headquarters at Bolling Air Force Base.
Clapper was referring to the subtitle of the January 2010 article, "Fixing Intel," about intelligence in Afghanistan. The article was written by Flynn and two co-authors without Clapper's approval or knowledge.
In it, Flynn and company described their frustration over what they saw as a fixation on intelligence aimed at killing insurgents over the mundane but important tasks of understanding local Afghan populations.
Clapper reminded the audience that he called Flynn back to Washington so he could "fix all the intelligence issues that he'd been complaining about."
It looked like a keep-your-enemies close strategy. If it was, it's not one that prevented Flynn from receiving a third star and assignment to the Officer of the Director of National Intelligence last year, although Flynn had to wait for months at the Pentagon for the promotion and assignment.
Clapper seemed amused at Flynn's irreverence, even as he complimented his work at ODNI:
"There was no doubt in my mind that Mike, who's been a legend in the Army since his earliest days when he was known as the second lieutenant who went to Grenada on his own, would exceed expectations. And he did."
When it was Flynn's turn, he did not trod back over the "Fixing Intel" ground. He made clear that change was coming to DIA.
"As we transition from one leader to another, it is more than just about changing riders. It is about using these opportunities to reflect on the direction of the organization," he said.
He said DIA would be "partnering even more closely with our combatant commanders, our national intelligence and law enforcement agencies, our coalition partners."
Flynn also becomes commander of the Joint Functional Component Command for Intelligence Surveillance and Reconnaissance, the person who works with Strategic Command to make sure the military intelligence apparatus is working smoothly across the services.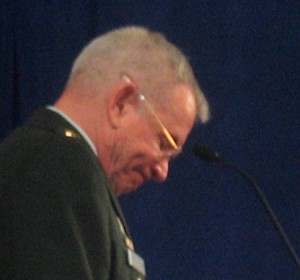 Burgess reflected on his career and thanked officials, including Rep. Mike Rogers, R-Mich, the chairman of the House Permanent Select Committee on Intelligence, who was in the audience.
"You have always encouraged frank and honest discourse. You called them like you saw them. We haven't always agreed. But that's the good thing about our system," Burgess said.
He also offered advice for young intelligence analysts.
"We must always tell our leaders at all echelons what they need to know not what they want to hear. As our nation's intelligence professionals we have a non-negotiable obligation to the American people to call it the way we see it," he said.