Advertisement

Interview: The End of Kumbaya?
As Chairman of the House Permanent Select Committee on Intelligence, Rep. Mike Rogers, R-Mich., has restored a measure of bipartisanship to a committee that was deeply divided by the George W. Bush years. The former FBI special agent faces the task of keeping the good will flowing even as he criticizes the Obama administration's handling of classified information and the adequacy of its intelligence approach to Syria. Rogers spoke with Ben Iannotta in his Capitol Hill office.
Read excerpts below >>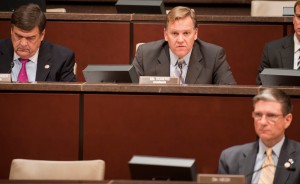 On Bipartisanship >> "I've tried to take all the edges out of the national security debate.…Working with Democrats on my committee and take their suggestions, their offers, their amendments before it gets to the place where you're supposed to fight about things, so that we can have an honest debate about it."
Oversight of the IC >> "When they're wrong, we need to tell them they're wrong. When they're right we should not be bashful about telling them they're right."
Political linkage >> "In this line of work, people do understand we're going to have differences of opinion. That's why you have Republicans and that's why you have Democrats….I'm out trying to repeal Obamacare today but we're working on very sensitive national security issues together the next day."
Polygraphs >> "There needs to be more than that. I would argue that there has to be some moral leadership coming out of the White House as well [to plug leaks]…There's a whole nother group of individuals that won't fall under those rules…National Security Council individuals and staff, and the folks who deal with that that come into a presidency and leave with a presidency."
Whistleblowers >> "When it comes to classified information, you cannot have individuals determining by what small piece of the world they see what should and should not be classified. That is a recipe for disaster. And there are lots of outlets. We have a Whistleblower Protection [Act] for a reason. They can come to a committee like the intelligence committee and offer up classified, sensitive information. It happens by the way, and we take every case that comes into our offices extremely seriously."
Syria collection strategy >> " I think being slow on an event like this is just not helpful… sometimes we just don't get to pick on our calendar when things happen, but we have to be willing to make hard, quick decisions to make sure we stay ahead of it. And I'm not talking about doing any action. I'm just talking about putting the United States government in a position to collect information that policy makers need to make good decisions. We're not just there yet."
Syrian rebels >> "There's been a lot of calls for arming rebels and I have been opposed to that because I just don't believe we know enough…As a policy maker, when you're talking about arming individuals to overthrow a government that's a big deal. It should be a big deal."
Analysts and agents >> "You take a counter terrorism case, and as complicated as they are, an analyst is critical to a better conclusion quicker… An analyst can help bring in information from across the country. The Crowley [sic: Coleen Rowley] case is a great example of that. If there had been an analyst on that case, who knows?"
Fort Hood intelligence >> "Somebody thought information was sensitive and not for sharing because of the way it was collected, and it was really just a simple mistake…And there was clearly some indications that the Army was very reluctant to move forward. They thought that they would be punished for being maybe overly aggressive with someone based on their religious beliefs…As an investigator, you can never do that…You have to take your leads where they take you."
Fort Hood confusion >> "It can be fixed…You had two very different cultures [in the Fort Hood case] trying to work in the same room "
Privacy >> "If you're an average citizen, the government isn't willy nilly collecting it and sitting down and having a good laugh over your emails and your tweets. It's not happening. In order for them to access your information, they have to have a warrant in order to say, 'Hey, I'm going to look at Mike Rogers' emails for the next three months,' They have to go to a judge and prove that there is some reasonable belief that there is going to be a crime committed."
Cybersecurity legislation >> " If we can get something that isn't overly proscriptive, overly regulatory to a conference committee, I think we can probably work out details to get something to the president…this fall.
FISA renewal >> "I think there's a difference between a big fight and a scuffle. I think you're going to see a scuffle."
IT modernization >> "If you're sitting at a desk having five different systems, we just can't sustain that any more. So we're going to have some merger of IT and some consolidation and synergy of services when it comes to IT."
Cloud security >> "We're still working through the security protocols to make sure that this stuff is safe and secure, not accessible outside of the cloud itself, so that you don't have intrusions that are dangerous to national security. We have all of that to work through. But I do think we're probably going to have to get there. I think it's the wave of the future."