Advertisement

The case for laser links
Lots of factors need to fall into place if General Atomics Aeronautical Systems is going to use lasers to move imagery off its unmanned planes a thousand times faster than is possible with the radio communications used today.
The critical missing ingredient for the company's proposed laser comm demos is a four letter word -- cash.
General Atomics is openly soliciting "government support" to turn its laser blueprint into hardware that could be tried out on unmanned Reaper planes. At this month's Berlin Air Show, the company sought to help make the case by decloaking a teaming agreement it signed quietly months ago with the German company Tesat Spacecom, a laser comms pioneer.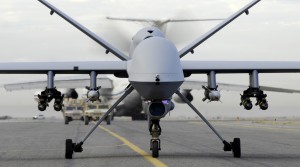 The companies think they can use lasers to beam imagery from unmanned planes at a clip of about 2 gigabits per second, or "several hundred to a thousand" times faster than is possible with the radio frequency satellite links on the planes today, said Michael Perry, the General Atomics vice president for laser electro-optics.
If the companies can find a sponsor, one of their first steps would be to beam imagery from an unmanned Reaper to a satellite in low Earth orbit. Ultimately, though, they want to send the laser 22,500 miles into space to a communications satellite called Alphasat. It is scheduled for launch in 2013 to a position over Europe, Africa and the Middle East for the European Space Agency and mobile communications giant Inmarsat. Alphasat's main job will be to serve Inmarsat's BGAN mobile comms customers, but it also will carry unrelated, or hosted, payloads. One of these happens to be a demonstration laser communication terminal built by Tesat.
If the demo goes as planned, the Reaper imagery would arrive by laser at the Tesat terminal, but it would be relayed to ground sites via multiple ka-band radio frequency transmissions.
General Atomics engineers are not the first experts to think about using lasers for faster communications. Lots of research has been conducted by DARPA and the Air Force Research Lab, but General Atomics wants to tie the technologies into a new application: "To our knowledge, this would be the first laser comm capability on a UAV," Perry said.
If it works, flight crews in ground control stations in the U.S. would be able to view more terrain on their screens, and so would intelligence analysts at fusion sites.
General Atomics hasn't said which agencies it is pitching the demos to, but Pentagon officials fret about the readiness of networks and communications links to handle imagery from new multi-camera wide area surveillance systems that take city-sized snapshots several times a second. Reapers carry the Gorgon Stare wide area imaging pods. They will probably end up carrying the even wider area Argus-IS systems in development by BAE Systems as the next version of the Gorgon Stare imaging system provided by Sierra Nevada Corp.
Most unmanned planes are still equipped with full motion video cameras that deliver soda-straw views just meters across.
For General Atomics, some factors have fallen into place toward the laser demos. The company has received permission from the State Department to share data and expertise with Tesat, Perry said. That makes it possible for the companies to collaborate on building hardware. The companies are refining their blueprint now that they are free to talk. If a sponsor is found, most of the equipment would be built by General Atomics; Tesat would provide some critical components.
The biggest technical challenge will be squeezing the communications package into a housing small enough to ride on the aircraft's fuselage without disrupting its aerodynamics.
The company has tested the laser housing on a Reaper with good results, Perry said. "The main purpose of the experiment was to show it was aerodynamically stable and did not have a negative impact on the endurance – and both those things were shown," he said.
The remaining work should be doable.
"What we're talking about is something that is a derivative of systems that Tesat has done in the past," he said. "This is not [about] looking for some kind of fundamental breakthrough at this point."