Advertisement

Staffs see a deal coming on cyber legislation
Democratic and Republican congressional staff members are striking an upbeat tone about the possibility of getting a version of the Cyber Information Sharing and Protection Act through both houses of Congress this year, notwithstanding controversy over whether the bill's privacy protections go far enough.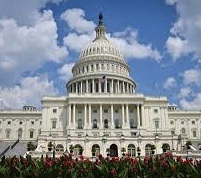 "Chairman Feinstein has said in no uncertain terms, 'Go out and get this done,'" said Andrew Grotto, a staff member on the Senate Select Committee on Intelligence, where Sen. Dianne Feinstein, D-Calif., is chairman.
Grotto and other congressional staff members discussed the prospects for cyber legislation at the annual C4ISR Journal conference today.
The bill that passed the Republican-controlled House of Representatives April 18 promises to "reasonably limit" the retention or disclosure of cyber information associated with specific people. It would establish a process for federal and state governments and private companies to share details of cyber attacks and threats.
The American Civil Liberties Union says the bill would create a loophole in privacy laws by allowing companies to share Internet user data with the National Security Agency.
Grotto's staff counterpart on the Republican-led House Permanent Select Committee on Intelligence, Thomas Corcoran, agreed that differences between Republicans and Democrats are not insurmountable.
Receiving threat information from the private sector's security industry would be especially important: "Despite what the ACLU would have you believe, the NSA does not have sensors all over the Internet," Corcoran said.
The session moderator, former Department of Homeland Security official Paul Rosenzweig, challenged the staff members to give a one word answer about whether Congress would pass cyber legislation.
Corcoran and Grotto said yes. Staff member Kevin Gates of the House Armed Services Committee said probably.