Features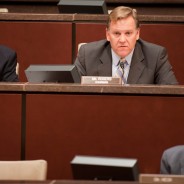 As Chairman of the House Permanent Select Committee on Intelligence, Rep. Mike Rogers, R-Mich., has restored a measure of bipartisanship to a committee that was deeply divided by the George W. Bush years. The former FBI special agent faces the task of keeping the good will flowing even as he calls for repeal of Obamacare, criticizes the administration's handling of classified information and questions the adequacy of its intelligence approach to Syria. Rogers spoke with Ben Iannotta in his Capitol Hill office.

Iannotta: You've garnered real bipartisan success here. What's the secret to that?
Rogers: Acting in a bipartisan way.
How do you define that?
Well, I've tried to take all the edges out of the national security debate. So, sometimes there are issues that come up where people decide to be partisan for the very sake of being partisan. I try to remove all of those types of issues, building consensus early. Working with Democrats on my committee and take their suggestions, their offers, their amendments before it gets to the place where you're supposed to fight about things, so that we can have an honest debate about it. And I think being fair with them on their issues of concern, and trying to incorporate those issues, so that we have a better product – I think that is what has done that. And treating the intelligence community fairly. When they're wrong, we need to tell them they're wrong. When they're right we should not be bashful about telling them they're right. And we try to do all of that all at the same time.
How do you keep, how do you go out and push hard for something like repealing Obamacare without having that bleed over into your work on the committee, like Democrats taking that out on you?
Well, in this line of work, people do understand we're going to have differences of opinion. That's why you have Republicans and that's why you have Democrats. And so some of those issues are just natural areas where we are gonna strongly and passionately disagree. And I did this earlier on in this, where I used to work very well with Anna Eshoo on certain child pediatric device issues and we couldn't agree on certain intel issues. So we've learned, I think all the members have learned, it's a matter of mutual respect, and don't short cheat anybody, if you do that, and you go into things, and say, 'Hey I'm going to disagree with you on this. This is an area or an issue where we're going to disagree on but I'd like to work it out – people get that. Again, as long as you follow through and you don't sneak up and try get somebody and you don't play gotcha, and you build relationships with folks who have differences of opinion – You know we still have a wide variety of opinions on that committee but we find a way to build consensus. And that's why, I think that make the difference where I'm out trying to repeal Obamacare today but we're working on very sensitive national security issues together the next day.
To plug leaks, are the expansions of polygraphing and the threat of going to jail going to be enough, or are you working on legislation?
There needs to be more than that, I think. I would argue that there has to be some moral leadership coming out of the White House as well.
You said more or moral?
Moral. They need to stand up and very aggressively take a stand on leaks. And I think the President can go a long way by being very forward leaning on this by saying, A, he won't tolerate it, but B he's going to welcome the investigation. All of his people will be made available at any time for interview with the authorities and they'll provide all of the documentation that they need and ask for without any negotiation. And I think that sends a very clear message. Now, he hasn't done that yet. He's nibbled at the edges. But that sends a very clear message that he will not tolerate leaks in his White House. That's an important thing. A lot of these steps we're taking to lock things down – polygraphs – apply to the intelligence community. There's a whole nother group of individuals that won't fall under those rules.
Meaning the political appointees?
People that – You know, National Security Council individuals and staff, and the folks who deal with that that come into a presidency and leave with a presidency.
Because it seems like the rule changes target the – that's probably not a nice word – focus on the – wait, I don't have to deal with euphemisms, I'm a journalist.
Exactly.
Anyway, they really sound like they target the working level people but the leaks, at least the way they've played out, sound like they're at higher levels.
That's correct. That's the challenge. And that's why we've been calling – yesterday I came out pretty strongly and called on the president to make his staff available at any time and to produce documents along with the staff making available, again, phone records and other things. And by the way, telling his staff to release those reporters from any obligation to keep their conversation confidential.
So the word leak, in your mind, does it always mean to a reporter. Or could it also mean somebody sharing information with somebody at another agency who maybe has a clearance but is not cleared into that particular issue.
Boy, if we started to get into the semantics of that kind of a working relationship discussion, I don't know if there would be many people left in the community. So, again, I argue, a leak is something that either becomes public that causes harm, it's a release of classified information to somebody who's not authorized to receive it, who does something with it that allows our adversaries to read it or to hear it. And both of those are unacceptable.
Last question in this area, and keep in mind it comes from a journalist's, I think, natural bias on this one. If Colleen Rowley had sent her memo about Moussaoui's flight training to the New York Times instead of [afterwards] to director Mueller, history might have played out differently. So are leaks always a bad thing?
When it comes to classified information, you cannot have individuals determining by what small piece of the world they see what should and should not be classified. That is a recipe for disaster. And there are lots of outlets. We have a whistleblower protection for a reason. They can come to a committee like the intelligence committee and offer up classified, sensitive information. It happens by the way, and we take every case that comes into our offices extremely seriously. And we will investigate them until we're either satisfied that it's getting justice within the system, or we'll take it out, without the system. So there are lots of outlets for that. Making something public that damages other things that that particular individual may have no knowledge of is wrong. And that's why we have compartmented information. You know, we have different levels of classification for information, and we have people read in to different degrees of all that information to try to protect it, and sources and methods. So when people do those kinds of things, they jeopardize more than the very small piece they may see.
I see. I see. So shifting gears on you. So Syria is obviously a huge issue. What are the early intelligence lessons you see?
I think the administration policy was slow to come around on doing something with Syria. And I think that has proven to be a mistake and will cause us some trouble moving forward when it comes to trying to understand who the opposition forces are – some 275 plus different groups have claimed opposition status to the Assad regime. Some 25 percent of those roughly have some ties to extremist organizations. And it just gets a little murky from there. And I think being slow on an event like this is just not helpful. And sometimes we just don't get to pick on our calendar when things happen. But we have to be willing to make hard, quick decisions to make sure we stay ahead of it. And I'm not talking about doing any action. I'm just talking about putting us in a position – us being the United States government – in a position to collect information that policy makers need to make good decisions. We're not just there yet.
So is there not good enough intelligence, though, to take a harder stand because you don't understand all these opposition groups.
Well, when you say harder stand, I'm not sure what that means. There's been a lot of calls for arming rebels and I have been opposed to that because I just don't believe we know enough.
Right, okay.
That to me is a great example of not having the appropriate intelligence to make a good decision. And we can, we should only make decisions on what we have a high degree of certainty that we know. As a policy maker, when you're talking about arming individuals to overthrow a government that's a big deal. It should be a big deal. And I just don't think we know enough. On that argument, I would say yes, we clearly don't have enough intelligence to make those kinds of decisions today.
Again, another topic, I saw your statement about William Webster's Fort Hood report. So what's the concern about having agents separate from analysts? And obviously I know you were a special agent.
Well, you know, in my days at the FBI, analysts really didn't even exist. And the case was run, investigated, and completed by an agent. And the value of an analyst is huge when you get to a complicated case of any degree. If you're running a bank robbery case, an agent can probably do those things very effectively. If you're running a fugitive case, you know they can be effective but an analyst would allow a better, a more effective investigation. You take a counter terrorism case, and as complicated as they are, an analyst is critical to a better conclusion quicker on those cases. So I think having those analysts together with the FBI are critically important because they can have a whole country purview. And sometimes an agent if they're in Chicago, they know Chicago issues. An analyst can help bring in information from across the country. The Crowley [sic.] case is a great example of that. If there had been an analyst on that case, who knows? They may have been able to pick up on some of the national hits where an agent might not have that ability because they're so focused on the leads in their particular division. And some of that happened in the Fort Hood shooting. And --
What I'm doing here, at C4ISR we didn't really look at these issues, so I'm really trying to get up to speed. But so, in the FBI you've got agents out at field offices, and you've got the analysts off somewhere else, is that how it is?
In some cases. In this particular case they did that. And it was convoluted system here, because, and you had a little bit of lack of education on definitions I think hurt this case a little bit. Somebody thought information was sensitive and not for sharing, because of the way it was collected, and it was really just a simple mistake on how that happened. And so having everybody in the same room on the same sheet of music is a good thing. And there was clearly some indications that the Army was very reluctant to move forward. They thought that they would be punished for being maybe overly aggressive with someone based on their religious beliefs. And you know as an investigator, you can never do that. You have to be void of all of that. You have to take your leads where they take you. And that we need to make sure is implemented equally from the DoD side, the FBI side as we move forward.
And I notice when I read the unclassified version of the report it said that some people, or maybe it was person -- I'm not sure if it was more than one – wasn't aware of the existence of the DWS-EDMS data base, this database that had the emails in it. Is there a way that can be fixed or maybe it's not a big problem?
Yeah, it can be fixed. It's just, again, there was a lot of systems. You had two very different cultures trying to work in the same room. And so this is one of those culture clashes, especially when it comes to DoD and the language, the language they speak, even if you're about the same counterterrorism investigation is probably different.
I gotcha.
And so that was the trick. How do you merge those, A merge that culture if you will, and have a common language when you're talking about databases and other things for access.
I want to hit another area. On big data, lots of U.S. citizens assume that this means all their emails, their tweets, their social media are being collected somewhere and being parsed by the government. Is that true?
Not without a warrant they're not. If you're an average citizen, the government isn't willy nilly collecting it and sitting down and having a good laugh over your emails and your tweets. It's not happening. In order for them to access your information, they have to have a warrant in order to say, 'Hey, I'm going to look at Mike Rogers' emails for the next three months,' they have to go to a judge and prove that there is some reasonable belief that there is going to be a crime committed.
Is that a FISA judge or could be any judge?
Well, it could be, depending on what the violation is, it could be, you could be charged with a domestic crime, and that would be an article 3 judge. You could have a FISA judge if it is a, if it has an international flavor to it. So, there is all segment. And by the way, highly reviewed. We review it. The Department of Justice reviews it. The judges review FISAs, I think every, when I was in, it was 10 days, I think that's still amount of days. There's lots of reviews to make sure there's no abuse of people looking at information they shouldn't look at.
How's it looking for your cyber legislation?
Well, we're getting some movement in the Senate. I think that's good. If we can get something that isn't overly proscriptive, overly regulatory to a conference committee, I think we can probably work out details to get something to the president to [inaudible…vet?] this fall.
Do you expect a big fight on renewing the FISA amendments?
Umm, I think you're always going to see some scuffle over it. I think there's a difference between a big fight and a scuffle. I think you're going to see a scuffle. And most people realize, the information is overwhelming how successful and, just, no abuses of this particular law enforcement technique. And again, it's because we respect the fourth amendment due process and there is judiciary third party review of the collection of this information. And that's, at the end of the day, Americans don't mind if there is a legal, third party review to collect that information. It happens thousands and thousands of times a day across America with subpoenas and warrants, and that's the same thing we're implementing here.
On the cloud –
Spokeswoman Susan Phalen: One more
The administration has made these big claims about saving money by putting applications and data in the cloud. Do you believe those? Is there any way to analyze that to know?
We think we can analyze it. There is a small dissenting school of thought that says you can probably do it, but because of the classified nature of it, you may not save money from doing it. At least any time soon. So maybe over time you'll have a margin to save but I'm a little bit skeptical of the big number savings that they talk about. Merging systems, those kind of things, I think we do get big savings from IT. To try to condense our, the way things are pro — in other words, if you're sitting at a desk having five different systems, we just can't sustain that any more. So we're going to have some merger of IT and some consolidation and synergy of services when it comes to IT, that's great. Cloud? We're still working through the security protocols to make sure that this stuff is safe and secure, not accessible outside of the cloud itself. So that you don't have intrusions that are dangerous to national security. We have all of that to work through. But I do think we're probably going to have to get there. I think it's the wave of the future. And it does have some savings in its management of it that I think is valuable.
End transcript